The single row ball slewing bearing is composed of two seat rings, which design in compact structure and light weight, steel ball contact with the circular raceway at four point, it can bear the axial force, radial force and the tilting moment at the same time.
The installation of slewing bearing can be divided into seat type, suspension type and vertical installation.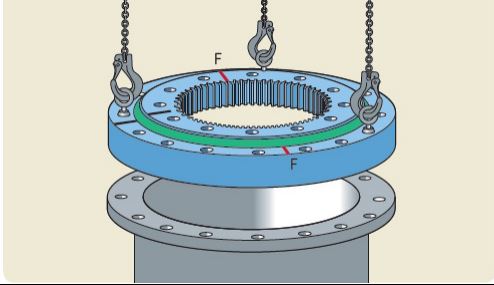 Selecting the appropriate slewing bearing can be a challenge, particularly if there are stringent technical, reliability or economic demands. In these cases, for example, We jiangsu shuangzheng application engineering service can provide advanced calculations and simulations utilizing state-of-the-art analyse methods to optimize and validate the best design to meet the customer requirements.
Shuangzheng manufactures standard and customized slewing bearings in various designs with outside diameters from 200mm to 5000 mm to meet the demands of particular applications.
Applications
Shuangzheng offers high-performance slewing bearings for a wide range of applications, including:
· Tunnel boring machines
· Excavators
· Forestry vehicles
· Rail vehicles
· Dockside and deck cranes
· Mobile cranes
· Water treatment equipment
· Bottle filling systems
· Metals
· Material handling
· Marine pods
· Offshore buoys
· Stacker reclaimers
· Medical equipment